Cleaning Myths To Avoid When Working With Natural Stone
---
Natural Stone is one of the most versatile building materials extracted from the lap of nature. Its components are the perfect choice for commercial, industrial, and residential designs. For many people, natural stone remains the top choice for ages. Whether it be for countertops, showers, splash backs, patios, or other features, stone has consistently been a solid investment. As a matter of fact, architects, designers, and homeowners like to go for natural stone as it fits with any interior or exterior décor.
When it comes to cleaning and maintenance, having the right information on your particular natural stone will help your stone surfaces look stunning and beautiful for many years to come. In this blog, we will take a look at some cleaning myths to avoid when working with natural stone and set the record straight. Make sure you don't fall for negative features which natural stone doesn't contain.
It is common to hear certain cleaning myths about natural stone but these should be avoided. These cleaning myths leave a big question in the mind of users. Here at Stone Doctor Australia, we want you to be informed and well-guided and one of our desires is to throw the light on reality.
Let's look at some of the cleaning myths surrounding natural stone as well as some realities to keep in mind when considering natural stone for your new build or home improvement project.
Cleaning Myth #1: Natural stone is difficult to maintain.
We need to understand the difference between high and low maintenance. It also depends upon the effort one puts to clean and maintain the floor, kitchen, or other areas. Many natural stone materials require some degree of maintenance and require routine cleaning and maintenance to ensure it stays as beautiful as the day it was installed. With this, it is important to consider using our recommended maintenance products. Kindly reach out to our team experts to assist you with your enquiries. It is equally important to be aware of the cleaning myths to avoid when working with natural stone to ensure that your stone surfaces will retain all their beauty for years to come.
Usually, these cleaning procedures are not difficult or time-consuming. You only need understanding in using cleaning products and regimes that are appropriate for that particular stone. Just like with all stone types, proper care will extend its shelf life. However, in general, natural stone is actually quite simple and easy to maintain. Also, natural stone doesn't need to be replaced every 20 years. Well-maintained natural stone surfaces can last centuries.
Cleaning Myth #2: Natural stone is too expensive
Natural stone is in high-demand among homeowners, designers, builders, and architects but some people assume that because of high demand these stones are costly. In fact, that is not even true in some instances. Natural stone is neither cheap nor expensive in general if you look at years of service you will get out of it.
The price of a given natural stone product will depend on many factors, including grade, quality, rarity, textures, variety and availability, distance from the fabricator, and its demand. Natural stone options on the market ensure that there is a stone for every budget, application, and aesthetic preference. Working directly with a fabricator or stone importer / supplier can save the client money and gives you a direct line on best information about the stone.
When you consider working with natural stone, it is not only competitive but also a sound investment because of its durability and longevity amongst its known benefits.
Cleaning Myths #3: Natural stone is a bad investment
One of the cleaning myths to avoid when working with natural stone is its sustainability. Over the past decades, natural stone has consistently remained in high demand and can be the deciding factor when sale of a property is in question. One thing to keep in mind when investing in real estate is to ensure that it adds economic value to any home. Working with natural stone will be an intelligent choice, especially if you wish to raise the value of your property.
Natural stone is considered to be a smart investment. Aside from that it will not cost you much, natural stone adds lasting value to your home and you can be certain that it endures, adding long-term value to your property. Natural stone will stand the test of time. It's resistant to decay and less susceptible to damage than other materials thanks to its natural properties. Its longevity and durability are unmatched when used appropriately to its suited areas.
Cleaning Myth #4: Natural stone will go out of style
Most designers, architects, builders and homeowners can testify that natural stone has stood the test of time and maintained its status as a high-end and in-demand stone material since ancient times. Weathered or antique natural stone brings a certain old-world the charm that homeowners desire.
People always have a fascination with preserved pieces of history like natural stone. It's difficult to imagine that it will suddenly fall out and goes out of style over the next few years. Natural stone's beauty is timeless and it gives a sense of history and purity to the place.
Natural stone creates such an ambience to the area which is ever stylish yet very hard to replicate. Additionally, it is also a sense of pride for place owners when somebody talks about its beauty.
Care and Maintenance of Natural Stones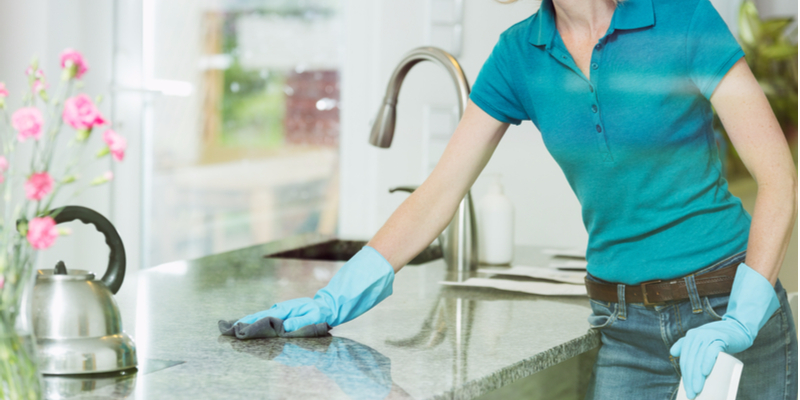 Natural stone is a material that man has made beautiful and time has made strong. With such qualities, you may use natural stone for floors, countertops, fire pits, tables, vanities, windows sills, walls, and many other applications.
Durability and longevity are the top features of natural stone. Unlike everything else, natural stone needs some care and maintenance to remain at its best. Don't worry, if you get a significant scratch or stain, your entire natural stone is not going to be ruined. Most general wear can be fixed with the help of a stone care professional and also by using top of the line approved cleaning products.
Keeping your natural stone looking pristine at all times is something that you must enjoy doing. And so, protect your investment and keep in mind these cleaning myths will continue to linger which you need to avoid when working with natural stone. Lastly, don't let the fear of its maintenance put you off. There is no substitute for natural stone when it comes to beauty, practicality, and value.
Do you have more questions or concerns on how to care for your natural stone? Consider reaching out to our team of experts now. We are pleased to assist you.